Happy Friday Eve!!! Today I am featuring a shop based out of the Carolinas:
Salvaged Shreds
. It is a very unique shop and offers a wide variety of items. One of my favorite items from this shop is the
Happy Bunny Shredded Tee Purse
. Before I fully introduce you to this shop, I just want to take a moment and say something. As you've noticed, I do a Q & A on every shop that I feature. This particular one was inspiring & you will see why just from the first question. It made me realize that no matter how bad something is, you can always turn it around into something positive. Now, I present to you,
Salvaged Shreds
:)
Q:
How did you come up with your shop name?
A:
I was molested and raped as a teen. In order to deal with it, I used to cut up my t-shirts and make hand bags and clothing. My mother fondly called these things
shreds.
After a while, I realized that by shredding my clothing, I was releasing my anger. I realized that every time I shredded something, I was salvaging a little piece of my messed up life. So, there we came to
Salvaged Shreds
. I put my life back together by cutting something up and putting it back together.
Q:
Do you only sell on
Etsy
?
A:
I only sell my clothing on
Etsy
, but I also frequent sites like
Ebay
for my paintings.
Q:
What inspires you?
A:
I suffer from several eating disorders. What inspires me is bringing home the idea to women that they are beautiful no matter what they see in the mirror.
Q:
What is the hardest part of what you do?
A:
Trying to work from home with 4 kids & pushing your self to belive in your work when things are looking down.
Q:
What is one of your favorite items from your shop?
A:
The
red and black puppy scarf
. It's warm and fuzzy like a puppy.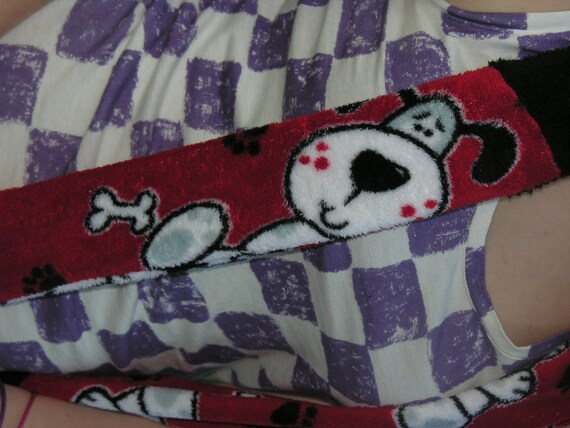 Q:
What made you decide to use
Etsy
instead of sites like
ArtFire
and
MadeItMySelf
?
A:
I hadn't heard of them. I'm not very into knowing what's new. I've known
Etsy
a wile now.
Q:
Is
Etsy
your only "job", or is it something you do on the side?
A:
My main job is being a mom. Next comes whatever I want to do. So, yes and no.
Q:
Are you attending any art shows in the future?
A:
Yes, this month on the 25th I'm doing a show with a group of artists from North Carolina.
Q:
Any future projects?
A:
I'm puting together this up coming Spring to raise funds for a small animal santuary.
Inspiring Words from
Salvaged Shreds
: "
Keep pushing; don't give up. It's hard, yes, but you have to believe in what you do and in your self because if you work hard enough, you can make anything possible.
"